Think carefully about what you want
the size of the painted enamel never exceeds 4 cm in size or diameter . I can paint a portrait, an animal, a house, a landscape. Recently I was asked to paint a miniature of Port Haliguen in Quiberon in 1952
the frame can be in bronze or copper, it can be irregular in size or round, oval, square. quite wide, narrow, decorated with different motifs flowers, fish etc., I can decorate it with fine stones see my jewellery site (
www.breizh-bijoux.com
) you will be able to see all that is possible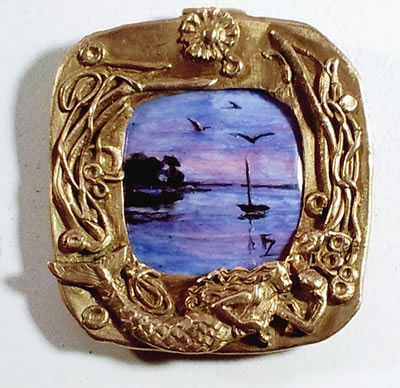 I was commissioned to paint the Keraude beach at sunset I first put it in one of my bronze frames , then my client found an old silver one . the enamel is 25x25mm (1 square inch)
I can also make a painting on enamel for a frame that you have
the best is that you phone me or that meet if you are on the Quiberon peninsula so that we can discuss it.
To make the miniature I will need one or two clear and detailed photographs.

Depending on the estimate of the time needed, the stones used and the size of the miniature, I will give you an estimate of the time needed to make the miniature, usually 2 to 3 weeks. For example, the robin was sold for 120€, estimate accepted, I will ask you for a deposit of 33% of the total. I will send you a photograph of the miniature when it is completed and you will receive it by registered post with insurance after your payment of the balance.

fine details of purchasing and special order conditions on the order page.